IRC can be easily stated as a network of channels connected all across to form chat rooms. Internet Relay Chat was initially a protocol that allowed connecting to other servers and communicating with another individual or a group of individuals. These channels and chat rooms are hosted by servers allowing a bunch of individuals to talk about common interests, current topics, etc. IRC initially arrived on the internet scene sometime around 1988 and was undoubtedly at its peak during the 1990s and the early 2000s. Let us take a look at the Top 5 best free IRC clients for windows, which are mostly in use today.
1. mIRC
mIRC was considered to be one of the best IRC chat clients of all times. One of the best features of the online IRC is the scripting feature that makes it a lot better than most of its competitors. mIRC is a shareware with an initial 30 days of trial after which they put you through advertisements every time you start the IRC chat client.

Download mIRC here: http://www.mirc.com/get.html
2. X-Chat
X-Chat is more often than not stated as one of the major competitors to mIRC. Although it is not an open source IRC chat client, it can be easily installed on Windows operating system. You can use X-Chat for a trial period of 30 days after which you will have to pay a registration fee of $19.99. X-Chat has one of the best IRC servers allowing seamless chatting.
Download X-Chat here: http://xchat.org/download/
Tech Tip: Migrate your coding/scripting environment online with cloud-hosted Citrix vdi from CloudDesktopOnline and experience the ease of comfort to remotely catch up with your programming work on any device(PC/Android/iOS). Learn more about GPU dedicated server by visiting Apps4Rent.
3. HexChat
HexChat is an IRC client based on XChat, but unlike XChat it's completely free for both Windows and Unix-like systems. Since XChat is open source, it's perfectly legal. HexChat was originally called XChat-WDK which in turn was a successor of freakschat. It is very easy to use and has a customizable interface, cross-platform on Windows, OS X, and Unix-like OSes. You can edit the code to your own liking since it is Highly scriptable with Python and Perl. It is multi-lingual, open source and in active development.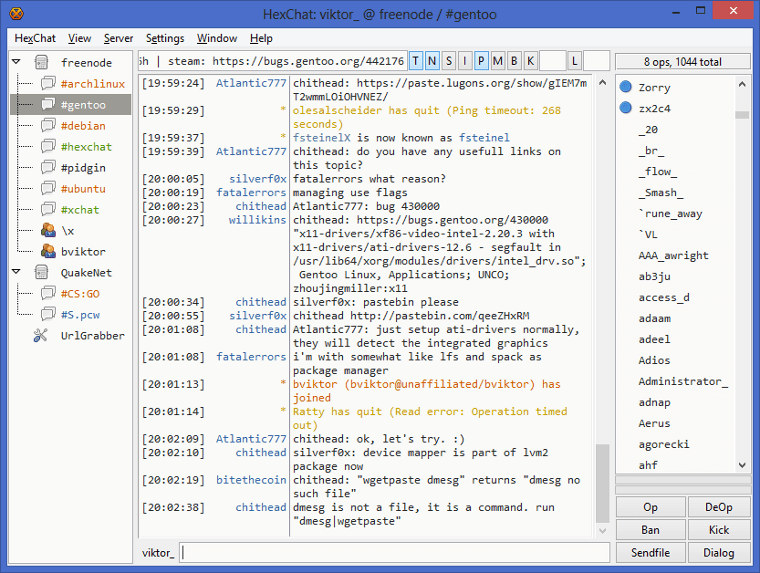 Download HexChat here: https://hexchat.github.io/downloads.html
4. Nettalk
Nettalk is an open source IRC chat client but interestingly has a very good user interface. The IRC chat client has been built in such a way that it allows new users to get things easy on the first go. It also supports multiple languages like Spanish, Dutch, Chinese, German and much more. In addition it also you to add plugins, scripts,e etc.
Download Nettalk here: http://www.ntalk.de/Nettalk/en/Download.htm
5. Quassel
Quassel is yet another cross-platform IRC chat client. It is also opensource. Quassel IRC is a modern, cross-platform, distributed IRC client based on the Qt4 framework.
Download Quassel here: http://quassel-irc.org/downloads
---
Let us know in the comments below which one is your favorite.