While Microsoft claimed Microsoft Edge, the default browser of Window 10, to be the most secure browser, it has been reported that scammers can exploit the Microsoft Edge SmartScreen by displaying a fake error massage. In a report, Manuel Caballero, an Argentinian security researcher found that scammers can force smart screen displaying a fake warning and extract personal information from you.
SmartScreen in Microsoft Edge is used to show an alert screen for protecting the user from visiting the malicious and dangerous website by displaying a familiar alert shown below.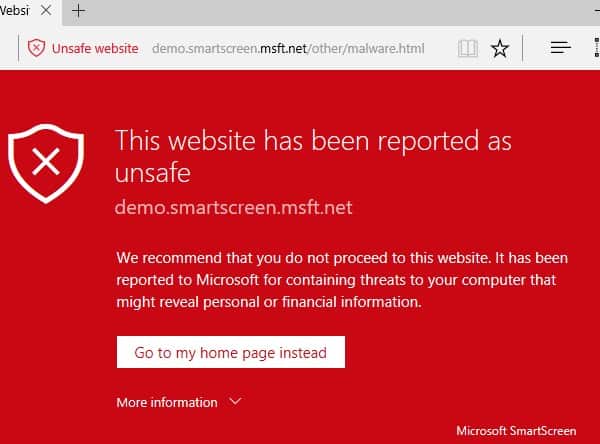 Report unveiled that if scammers are successfully exploiting this bug, they can place a link to the native message warning by using the Encoding, changing the dot with its ASCII code(%2e), and get more personal data just by clicking the link to call the scammer or by visiting the fake Microsoft's Help Website.
It is clearly a bug and Microsoft hasn't reported back on this issue. We may assume that Microsoft would fix this vulnerability in Microsoft Edge as soon as possible.